WH Smith Co .... One of the oldest bookseller resources around, and originating in the U.K. , this world-wide chain is also present in the U.S. and Canada. You may already have noticed WH Smith outlets at many North American airport terminals for example. We have feature pages on our U.K. site that showcase Dragonlance and other fantasy titles, we will be adding a broad sampling from their catalogue to this page shortly. W H Smith company ships world-wide and deliveries to the United States and Canada are often as quick as any from local stores. We buy from them all the time - especially since so many books these days are 'edited' for North American audiences, an example being the Harry Potter series where even the title of the first book was changed! Quick Quiz - what does the WH in WH Smith stand for? (Answer at foot of page)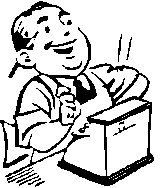 As a little historical note, the major growth of W H Smith Co. was due to W.H. Smith Jr who had inherited his father's business and opened a single newspaper stand in Euston Station in 1849. After the first year he negotiated a contract to provide similar services at a number of important rail stations in England. Interestingly, they also offered a subscription library service and customers could borrow and return books at any of the kiosks ~ part of the contract with the railway company was that the library books and WH Smith employees travelling on business, would have free carriage.
You may also like to check out these other book pages from Decklin's Domain Books ~

---

Quick Quiz Answer: Gleaned from Decklin's bookseller resources files ~
William Henry Smith was born in 1792 and got his start working in his father's business in the Strand in London in 1812.