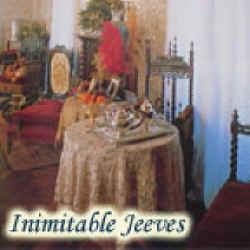 by P.G.Wodehouse,
performed by Patrick Horgan.
6h 45m $8.95
Inimitable Jeeves

Bingo has a big problem when it comes to love: He loves too much and too many. Leave it to lovable butler Jeeves to take matters into his own hands and cover all the bases, so to speak.

"P. G. Wodehouse at his shining best." --John Mortimer

P. G. Wodehouse (1881-1975) grew up in England and came to the United States just before World War I. During his lifetime he wrote more than ninety books which were translated into several languages and won international acclaim.